Isn't the name adorable? The Cod Father is a trendy restaurant in the Camps Bay area of Cape Town and has been reviewed in many guide books. I was afraid that it would be all hype but our experience there was pretty good!

There is no menu at The Cod Father. After you are seated, your server will take you to the glass cases in front and show you the specials of the night. Every kind of fish, shrimp, and shell fish imaginable. You make your picks and tell the server how much you want. I believe you can get it either grilled or fried. (I don't recall exactly). We chose for ours to be grilled. There's also a variety of sauces you can dip your fish in (peri peri, garlic butter, apricot chilli).

Most of the seafood/fish etc. come from the Mozambique area. For some reason I thought it would be from Cape Town. The selection includes king klip, blue marlin, butterfish, and cape salmon.




The inside of The Cod Father:



We got a seat by the window which was nice. There was a cool breeze blowing into the restaurant. We got oysters for appetizers. They were from Namibia. I usually like oysters but I didn't like these because the taste was really intense (briney and fishy). SO didn't mind them so he was happy to eat what I didn't :)




Here's our main course. We got some Tiger Prawns and a sampling of fish. Sorry it's been a while and I don't remember what we chose. It tasted pretty good though. I recommend getting smaller pieces and sampling more types. You can choose your sides. A carb like rice and veggies.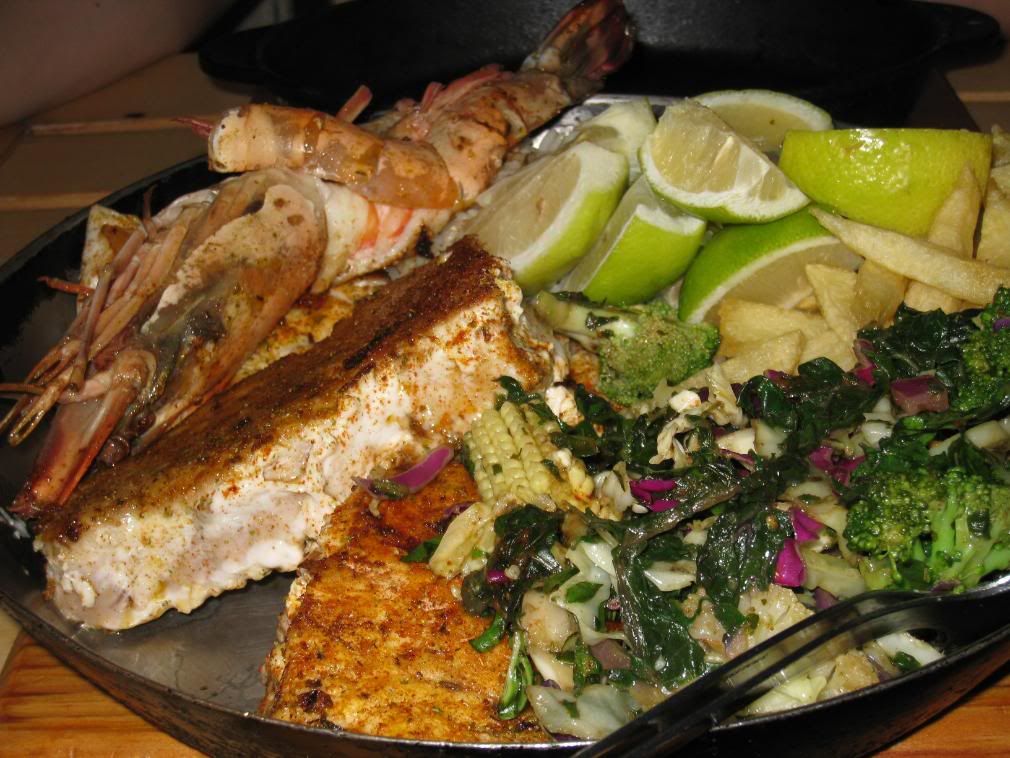 The Cod Father
37 The Drive
Camps Bay
8001
Phone: +27 (0) 21 438 0782

(You walk to what seems to be the end of the main road in Camps Bay and head up a little hill.)

Chomp Meter: A good choice in Camps Bay for seafood. Many of the restaurants there are more about being seen at than eating with significantly higher prices. Prices at the Cod Father are pretty reasonable. It cost us approximately US$70 for a meal with wine. I recommend calling ahead for reservations especially on weekends.