I was surprised to find that there is no Starbucks in Cape Town but who needs mediocre Starbucks coffee when there are a ton of cafes serving awesome coffee!

My favorite South African "chain" is Vida e Caffe.
Vida e Caffe = Coffee and Life in Portuguese. I love everything about it, from the clean design of the store, chill music, to the coffee, the simple menu, pastries and the Portuguese theme.

Very trendy eh?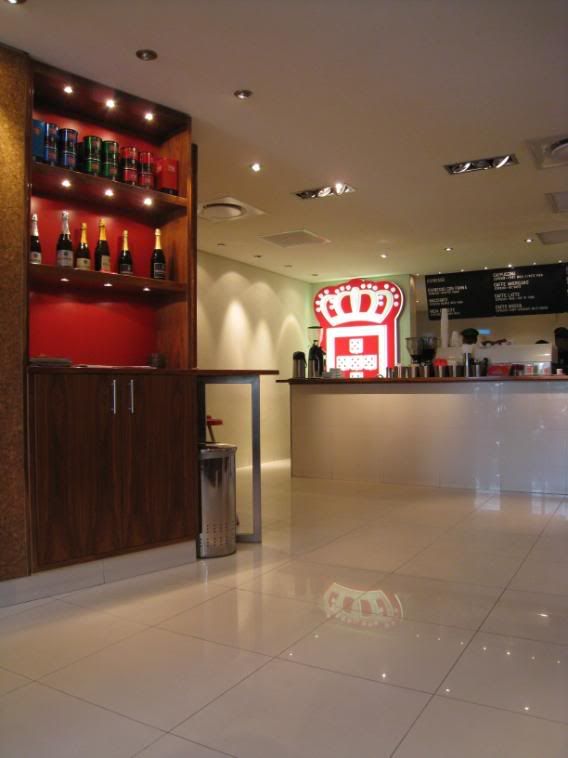 Vida Caffe serves a variety of coffee drinks including lattes, capuccinos, espressos, frozen coffees, all served with their signature, a small piece of Lindt dark chocolate.

You HAVE to stop by and grab a cup of coffee and a cream filled croissant(carnetti) or egg tart (pasteis de nata).

Chomp Meter: Highly recommended. Definitely stop by at least once!

Their Cape Town locations include:

Camps Bay
Shop 1 Isaacs Corner
55-61 Victoria Road
Camps Bay
Phone: 021 424 5829

Canal Walk
Shop 404 & 406
Upper Level, Canal Walk Shopping Center
Century City, Milerton 7441
Phone: 021 552 3560

Green Point
Corner Portswood and Somerset/Main Rd
Green Point
Cape Town
Phone: 021 434 7266


Kloof Street
Shop 1 Mooikloof
34 Kloof Street
Gardens, Cape Town
Phone: 021 426 0627

Sea Point
Shop 11
Da Luz Mall
Sea Point Main Road
Cape Town
Phone: 021 424 5730


V&A Waterfront
Shop 6100
Victoria and Albert
Waterfront
Phone: 021 425 9440


Wembley Square
McKenzie Street
Gardens 8001
Phone: 021 465 8644

(Lots of touristy locations so you have no excuse not to go!)

See complete list of locations.