This is a great place to dine al fresco in sunny Cape Town weather. We kind of stumbled upon this place. I was meaning to take the SO to Manna Epicure instead but it's closed on Mondays! Boo.



(Photo courtesy of SouthAfricaLogue.com)

Anyway Cafe Paradiso was a great find. Definitely a favorite among locals as well because we ran into the owner of the B&B where we stayed here! Purely coincidental, she hadn't recommended this place to us previously.

Cafe Paradiso is on Kloof street (on the slopes of Table Mountain). A short walk way from lots of restaurants and shops. This is where the office workers head for a relaxing lunch. I highly going to HeartWorks a few doors down for handmade African souveneirs. Not the kitschy stuff but nice high quality carvings, ceramics, etc. Very designer looking but at great prices. We chatted for a bit with the owner who travels around Africa sourcing the nicest items from local craftsman.

But back to Cafe Paradiso. Here's the butternut, fig and rice pilaf I got. It was fresh, yummy, and light. Just what I was looking for: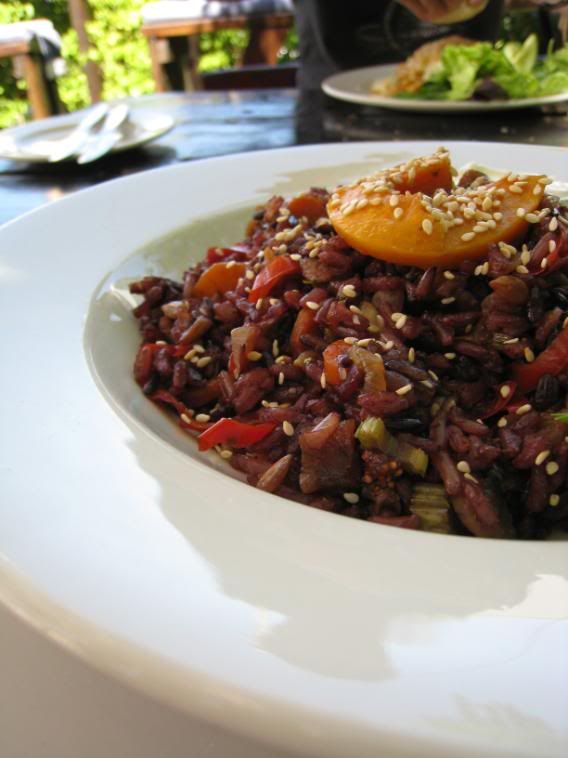 If you are looking for something heavier, they also have a variety of meats, including ostrich and rabbit. There's also a large selection of wines and beers. The style is South African with a French twist. I highly recommend this restaurant for lunch on a nice sunny day. There's seating in a garden setting and just in case you get too hot, large umbrellas.

Cafe Paradiso
110 Kloof Street
Gardens
8001
(Neighbourhood: Gardens / Kloof Street)

Chomp Meter:






Great place for lunch as you tour the Kloof Street area! This was one of my favorite meals of the trip, maybe because it was unexpected and unpretentious. Simple food yet creative and done well. I loved it.

Oh and don't forget to stop by Vida E Caffe for coffee after walking around!