Where: San Francisco, CA (Union Square in the Westin)
Specialty: Overpriced, over-rated mediocre food

Against our better judgement, we headed to Michael Mina's to celebrate my birthday. The initial plan was to have dinner at Gary Danko's but P wasn't able to get us reservations and MM was the backup. Really we should have heeded the advice we found on Chowhound ...

Here's how it works at Michael Mina's. You have the choice of a 3 course pre-fixe ($100) or the tasting menu ($135). There are also several options where you have to top up for crab or wagyu etc. We decided to go with the pre fixe menu.

Mini's Selection:
- Foie Gras Trio (Add $15)
- Maine Lobster Pop Pie (Add $15)
- Mission Bienvenudo (Tres Leche, Flan, & Mole Pudding)


P's Selection:
- Bacon Wrapped Scallop / Chowder Trio
- Liberty Valley Duck / Foie Gras
- Chocolate Florals (Panna Cotta / Chocolate Ice cream)


Anyhow we headed there without much expectation and hoping for the best. The meal started off with the lobster amuse bouche, which was dare we say, good? We were so hopeful...

Amuse of lobster salad, ravioli, and consomme. Isn't the consomme cup cute? :)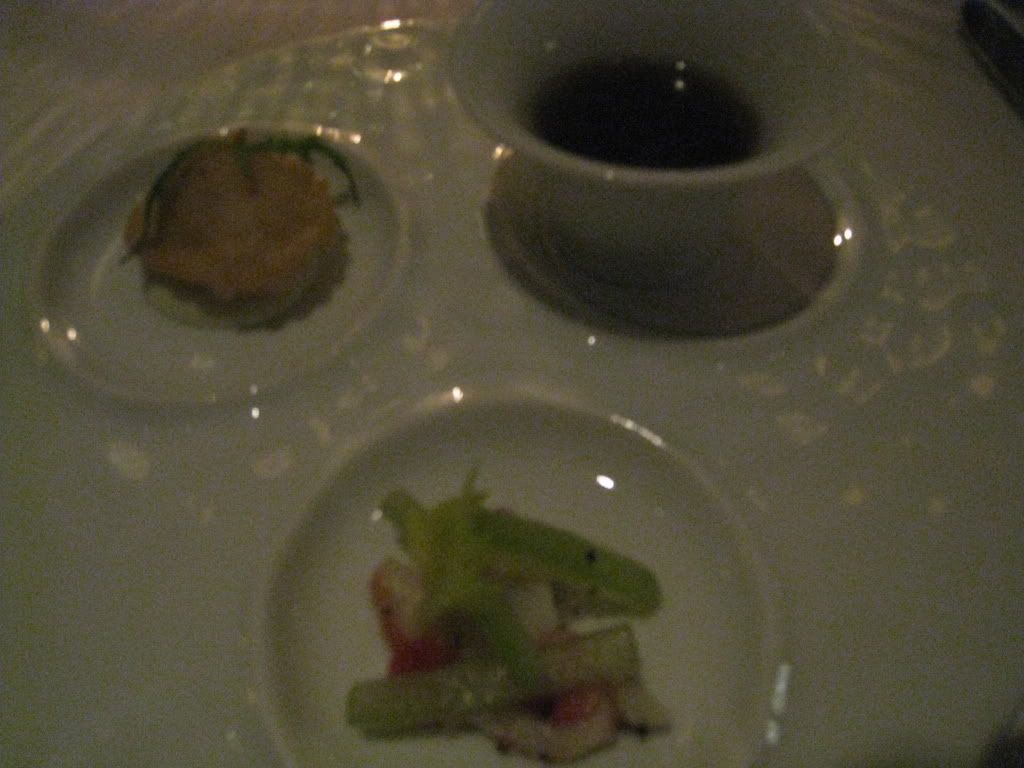 Next, the foie trio. The dish was poorly executed. The balance of flavors wasn't right and the most unforgivable part was that the seared foie gras wasn't even warm!! I could barely swallow it ...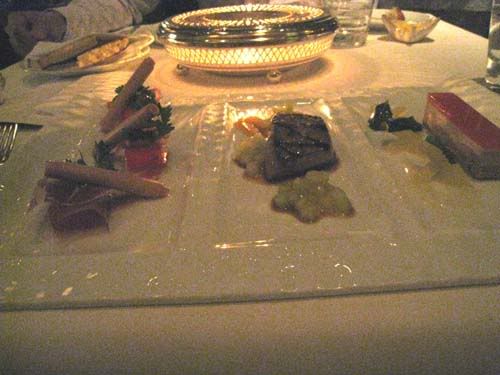 The scallops were ok. Then came the mains. I don't really know why I ordered the Maine lobster having just come from the East Coast but who can resist lobster. The presentation is rather neat since it comes in this bowl with a huge domed piece of bread on top. Don't worry you don't have to attempt to break this up yourself ... our waiter expertly dished it and recreated a lobster:

Tadah! The lobster was good though I thought they were a little heavy handed with the cream sauce. Nothing to write home about.



Now on to P's duck. It seems like cooks at very different skill levels prepared the dish. P had a seared foie gras too which was good and fresh off the skillet :P However, the duck part of it was cold. Perhaps left out too long, and since it was served rare, that made the whole thing just gross ....

OK ok so I think the pastry chef has to be the star of the evening. The desserts were absolutely delicious and well executed. I loved the fruity flavors (pineapple/guava) with my tres leche cake, the mango bits in my flan, and the mole pudding (spicy!) which was paired perfectly with the horchata ice cream. P's desserts were all yummy too.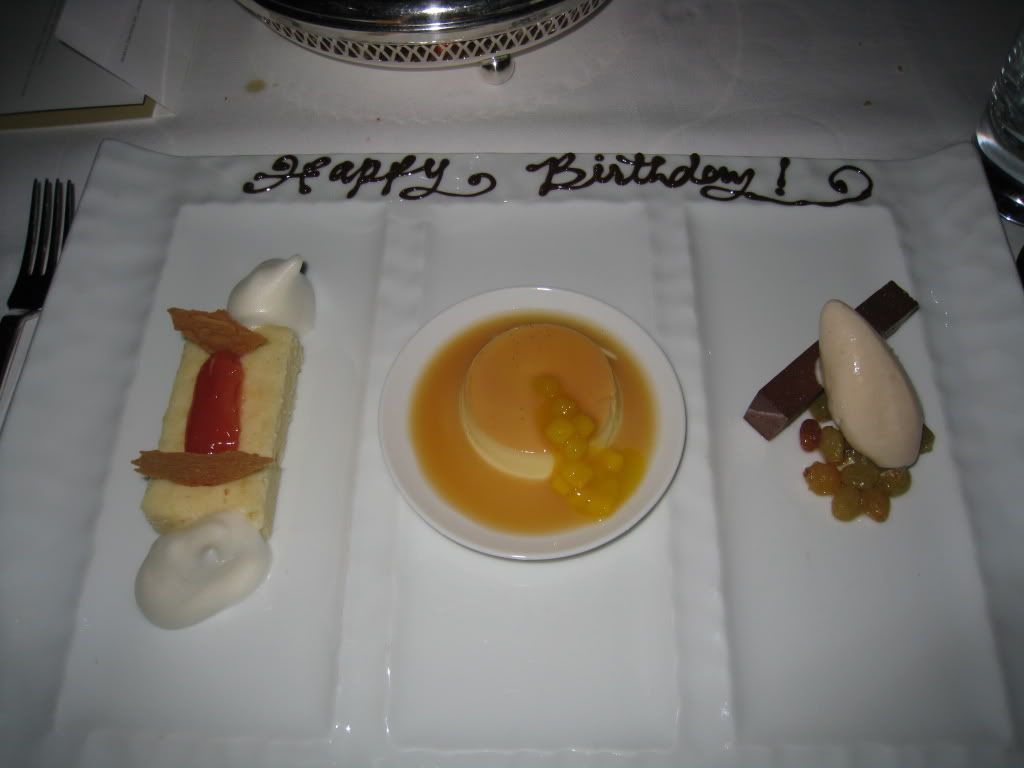 Oh and to be fair, the service at Michael Mina is excellent. Our waiter was friendly and attentive without being overly formal. A birthday card was presented to me on the table, though it was from the General Manager not Michael Mina himself :P

Chomp Meter:






Very ambitious but poorly executed. The concept of having 3 presentations for each course is cool but not so much when it isn't cooked right. See I think this is the problem with 2-Michelin star places, they're like the middle child wedged between the best restaurants in the world and the up and coming ones.

The bill for 2 people came up to $360 after tip. (Includes only 1 glass of wine that P had.)

Michael Mina
335 Powell St
San Francisco, CA 94102
(415) 397-9222